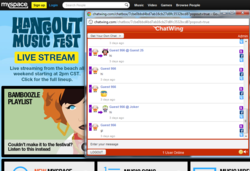 New free and relaxing chat box launched by Chat Wing for Myspace users
San Antonio, Texas (PRWEB)
May 18, 2012
While some people already consider Myspace to be beyond its time, a large percentage of the Internet crowd still uses it for online connection and business services. According to many bloggers and internet users, Myspace still has its "juice" and can compete with the big social networking sites like Facebook and Twitter. Myspace users who wish to become active again can now take advantage of a chat widget known as Chatwing. This chat app has been gaining ground in the blogosphere lately.
Chatwing is built on the premise of online social activity and global connection. It may appear like a simple widget, but it has the potential to connect someone to large online communities. This is useful for Myspace users to chat live because they meet new people who will become their contacts. Professionals have called this "lead generation" and it is one of the most common activities on the Internet today. The latest version of Chatwing can also hold a maximum of 600 users for efficient global conversation.
One of the main features of Chatwing is the integration of social networks. Thanks to this, Chatwing users will be able to log in with their Facebook or Twitter accounts. This means that Myspace users can now log in on an even greater scale. If a Myspace user owns an online store, they can now engage in a Chatwing enhanced Facebook or Twitter marketing campaign. From Chatwing screaming box is also versatile, it is compatible with a majority of online communities. However, the Chatwing development team noted that the widget ranks well in the blogging and internet marketing niches.
The main Chatwing team has also added new emoticons and avatar displays for people to use. These embellishments spice up any conversation or topic. Despite the integration of social networks, the embellishments and the influx of chatter, the free chat box remains strong in terms of connection. Other discussion rooms under the same niche as Chatwing have suffered significant speed shifts because their platforms are unstable. Chatwing staff are working around the clock to ensure that the widget provides 100% adequate service.
About Chatwing.com
Chatwing.com has developed live chat software for websites and blogs. It caters to different online communities due to its high rate of connectivity. Anyone can create a customizable live chat box feature in 1 minute or less. Users have the option of customizing the size, color and fonts of the chat product. The possibility of accessing a chat box Via social media accounts such as Facebook and Twitter allow Chatwing to deliver a personal and unique real-time experience to all sites. Chatwing is 100% free and very easy to use.
Share the article on social media or by email: