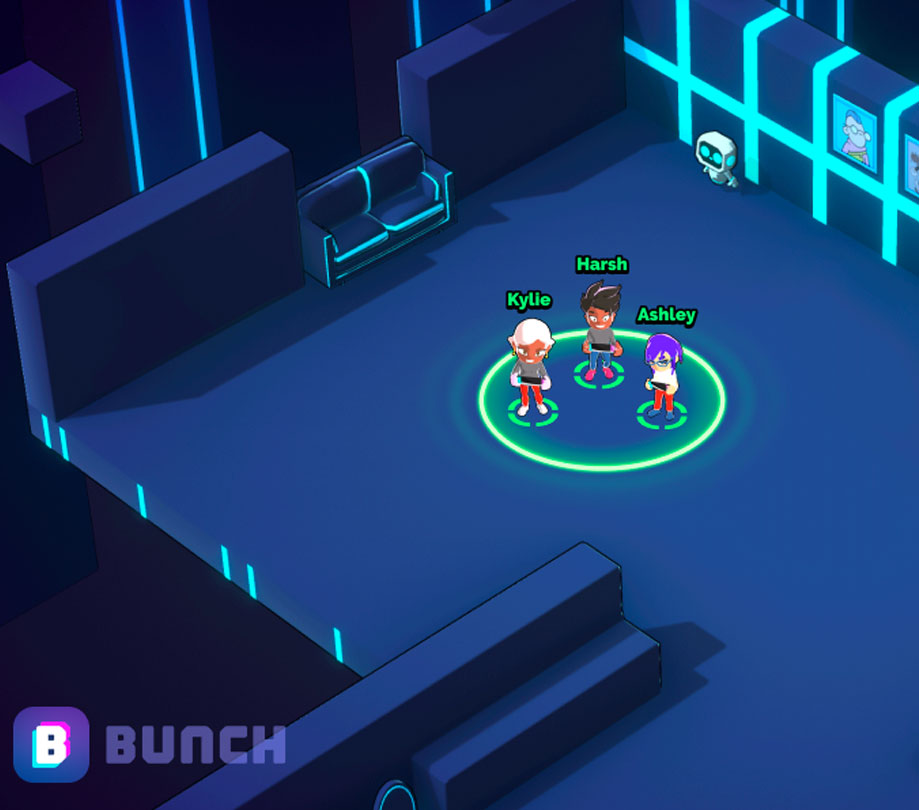 Bunch's Metaverse video chat app
Since we launched Bunch in late 2017, our vision has always been to create a real-time social network where people come together when physically apart and transition from experience to experience. And, in our opinion, the most fun experience to share with friends is playing games together!
Summary of recent years
Over the past few years, we have seen this vision come to fruition in several ways:
Bunch, our group video chat app for gaming, has helped millions of people stay in touch with friends and family during a difficult time when we had to be physically apart. The app continues to rank at the top in most countries for searches such as "group video chat".
Our vision to create an integrated social layer for multiplayer games has been shared by many game companies like Supercell, Electronic Arts, Take 2 Interactive, Miniclip and Ubisoft who have joined our Series A funding round.
We have assembled a world-class team of companies such as Meta, Google, and Kik Messenger, which combine the DNA of building social apps, development platforms, games, and blockchain technology.
We also learned from our users by talking to them and observing behaviors from our analytics. Many users start Bunch Parties that last for hours where they pop in and out with their friends while they do homework, play games like Roblox, and hang out together when physically apart.
Our vision of the metaverse
Many consider technologies like AR/VR and blockchain to be the building blocks of the metaverse. Some think of the Metaverse as a mood board for cool stuff that might hit the internet in the next 10 years. At Bunch, our vision of the metaverse is rooted around the utility it provides:
"Digital spaces to gather and move from experience to experience."
Based on this definition, the Metaverse is already here!
Millions of gamers spend time with friends every day in digital worlds like Roblox and Minecraft. These applications provide experiences designed for and contained within these platforms. For example, players can end up on Roblox and switch from one Roblox game to another Roblox game. However, they cannot meet on Roblox and play Fortnite or Minecraft.
Based on the same definition, popular chat apps like Discord and Bunch where players party and move between external experiences like Roblox and Minecraft can also be considered Metaverse apps. However, although these are sample open Metaverse applications, they are not spatial. That is, shared presence between players happens in the form of text, voice, and video chat, instead of a game-like environment.
Finally, Metaverse applications like Sandbox and Decentraland form another category where they have decentralized economies. These apps use blockchain to allow players to truly own in-game assets where they can independently sell or trade those assets on open exchanges like OpenSea.
Another benefit of decentralized economies is the scalable utility of blockchain assets. In other words, apps can offer utility for blockchain assets from elsewhere. An example of this is Oncyber.io where players can connect their blockchain wallets to view the NFTs they own in their personal space.
Here's a quick comparison chart for the examples shared above:
We believe Bunch is uniquely positioned to deliver compelling value to players and developers alike, creating an integrated metaverse for gaming that is:
Space environment (like Roblox) Players embody 3D avatars where they come together and explore digital spaces
Open experiences (like Discord) Players party on Bunch and move between their favorite games outside of the app
A decentralized economy (like Sandbox) allows players to truly own in-game assets and facilitates expandable utility
Discover Bunch 2.0, the Metaverse video chat application
The good news is that we've been building this vision headlong over the past year, and we're excited to share it with the world! Bunch will become your home in the metaverse where you can party and jump into your favorite games.
Bunch 2.0 is already working, and we're having a lot of fun with it. We're excited to share it with more invite-only people as we continue to grow the experience.
In the meantime, you can follow us on Twitter for early access to our Discord, the next NFT release, and Bunch 2.0!
Subscribe to App Developer Magazine for just $5.99 per month and enjoy all these benefits.